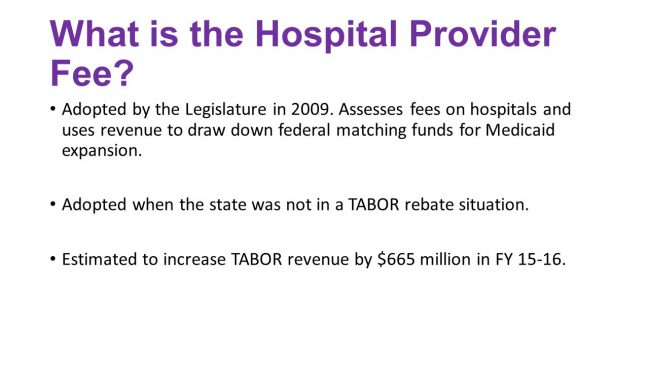 -TABOR friends and supporters,
You know that your TABOR Foundation filed a lawsuit to stop the collection of the Hospital Provider tax and program until the new tax receives its required voter approval.  We also had to amend the lawsuit to include all the wrong-headed, errant and unconstitutional provisions that affected the program with the passage of Senate Bill 267 last year.  That measure will allow an increase of state taxes of (at least) $400 million per year, without the required TABOR vote.  It also moved the welfare program that is the Hospital Provider fund off the books by renaming it as a government business.
We wanted to let you know that there has been significant activity on that lawsuit.  It had been filed originally in 2015 but was not taken up by the Court for 18 months.  Within the past several months, our attorneys at Mountain States Legal Foundation filed the amended complaint.  They have answered copious number of briefs to:
obtain permission to make that filing,
to resist unsuccessfully the addition as Defendants of the Hospital Association, and
to add to our own list of Plaintiffs
In addition, a lot more activity has taken place with the procedure of Discovery.  Just last week, I was deposed for nearly four hours by opposition attorneys, and another TABOR Foundation Director, Rebecca Sopkin, withstood another two hours of grilling.  Our attorneys have taken depositions from the Defendants.
Our attorneys must also deal with the Defendants' motion to dismiss the lawsuit altogether, as they allege among other things, that there is no remedy ("relief") for the problems we have cited.  There is also an important motion for summary judgment that is in process.  Unless one of those two motions is successful, we will see this lawsuit go to trial in late June.
We'll try to keep you apprised of further developments as they occur.  The speed that new steps are occurring and the demands on our volunteer time are such that we have been running out of time to inform you in a timely manner.
Penn Pfiffner
Chairman