Legislators find way to restore pot-tax funding to RTD, museums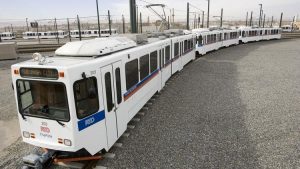 A RTD train sits at the corporate office, located between the Evans and Broadway stations.
By Ed Sealover  –  Reporter, Denver Business Journal
Jan 30, 2018
Regional Transportation District trains, Scientific and Cultural Facilities District museums and other beneficiaries of special-district funding soon will be on a path to again receive the revenues from retail marijuana sales that they'd been losing since July.
Colorado senators on Tuesday approved a "fix" for the language that has left those districts unable to collect sales taxes for cannabis sales within their district since shortly after an omnibus funding bill from the 2017 session was signed into law. Affected organizations have warned that while the problem has not led to program cuts yet, it could do so in the future if it's not remedied.
The fix to the error made in Senate Bill 267 is not one with unanimous support, having passed to the House Tuesday on a final vote of 24-10. Republican leaders warned not only that they feel the bill is unconstitutional, but that districts that re-start the collection of marijuana taxes without a vote of the people may be challenged in court.
Still, the organizations likely to begin receiving more money in the near future cheered Thursday's vote to pass Senate Bill 88 out of the Republican-majority Senate and onto the Democrat-led House, where leaders have expressed support for the fix.
"Right now we've been able to absorb that loss of revenue. But long-term it's definitely going to affect what we're able to do," said Scott Reed, assistant general manager for communications at RTD, which has lost about $500,000 a month. "This is a step in the right direction to correct the inadvertent mistake from Senate Bill 267." Continue reading →