By Yesenia Robles
yrobles@chalkbeat.org
PUBLISHED: October 3, 2016 – 7:55 p.m. EDT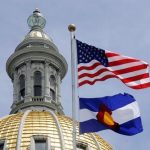 ( Photo by Denver Post file )
A long-running legal challenge to Colorado's constitutional amendment limiting tax revenues gained significant new allies Monday: school boards from five school districts.
Earlier this year, the U.S. Court of Appeals for the 10th circuit ruled that the lawsuit brought in 2011 had no standing because the original plaintiffs were not "directly injured by the law."
The hope is that adding school districts to the lawsuit will meet that standard, and convince a district court judge that the lawsuit should proceed.
The boards from Denver Public Schools, Boulder Valley School District, Pueblo City Schools, Cheyenne County School District and Gunnison Watershed School District joined the suit.
Mike Johnson, a Denver school board member, said in a statement that since TABOR was enacted 24 years ago, Colorado has dropped to No. 42 in the nation in public funding for education, more than $2,000 per pupil lower than the national average.
"We are joining this lawsuit to restore the ability of the DPS board and the legislature to fund public education at the level Colorado students deserve," said Johnson, who made the case to his board colleagues last month to join the lawsuit.
The Taxpayer's Bill of Rights, or TABOR, was passed by voters in 1992. The law requires that local governments get approval from voters before raising taxes. It also limits the amount of taxes the government can collect, triggering refunds if revenues exceed an annually-adjusted cap, unless voters allow the government to keep the extra money. Continue reading →