Business leaders battle Republican lawmaker in hospital-fee bill hearing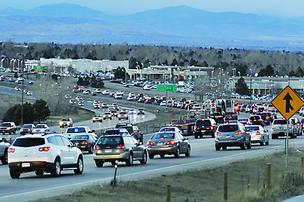 Colorado business leaders charged into the state Capitol Tuesday to advocate for a newly introduced change in the hospital provider fee that they believe will increase funding for transportation and education — and ran right into a key Republican legislator who questioned whether they would be taking revenues illegally from companies and individuals that need them more.
House Speaker Dickey Lee Hullinghorst's long-planned bill to pull some $700 million out from under the Taxpayer's Bill of Rights (TABOR) revenue cap and turn it into an enterprise fund received its first hearing in the House Appropriations Committee Tuesday, one day after it was introduced.
Committee Democrats passed it onto the House floor over the objections of Republicans, the first of several steps in what is expected to be a weeks-long fight over one of the most watched measures of this legislative session.
The seven-year-old provider fee charges hospitals for each night a bed is occupied, leverages that money to get an equal amount of federal matching funds and expands the eligibility of childless adults for Medicaid, reducing the burden of uncompensated care on hospitals.
By turning the fee into an enterprise, it frees a lot more room for the state to collect new revenues without reaching its TABOR cap and having to give back any excess money as tax refunds.
This, argued business and higher-education leaders, would allow the state to keep more money and put it to transportation, colleges and K-12 schools — diversions that specifically are mandated in a companion bill that Hullinghorst put through the same committee on Tuesday.
And that is why groups like the Denver Metro Chamber of Commerce and Colorado Contractors Association that may not otherwise care about hospital revenues are leading the push, saying that House Bill 1420 is the only way to ensure infrastructure that is critical to attracting and retaining businesses is up to speed.
In fact, an existing law ties the increase of about $200 million per year in transportation funding from 2016-20 directly to TABOR refunds; the larger the refund, the greater likelihood that funding could be cut in half or eliminated altogether.
And while highways and transit are guaranteed about $155 million in 2016-17 fiscal year under a budget bill that also received its first approval Tuesday, economic forecasters say the refund is slated to be large enough in 2017-18 without the enterprising of the hospital provider fee that highways would get no new money from the general fund.
"You don't have to drive too far across Colorado to see the problems that's creating," said Tony Milo, executive director of the Colorado Contractors Association. "We see this bill as a very practical fix to this problem."
But state Rep. Jon Becker, a Fort Morgan Republican and telecommunications executive, said that while he agreed that increased money for higher education and roads is critical, he feels HB 1420 uses a "magic trick" to make it seem legal.
By not resetting the TABOR cap base to reflect the money that is being moved to create a new enterprise fund, the state is not honoring the spirit of TABOR and is setting itself up to be sued, he said.
Because of that, Becker told Milo, Denver Metro Chamber CEO Kelly Brough and higher-education leaders that they are allowing the state to reach into the pockets of residents and businesses and to keep money that does not belong to it in pursuit of their goals. He feels state residents should have to vote whether or not to create the new Colorado Healthcare Affordability and Sustainability Enterprise that Hullinghorst, D-Gunbarrel, envisions.
"In doing this, you create a gap that allows us to keep more of the taxes of the citizens of Colorado," Becker said. "So, which one is more fair and equitable?"
HB 1420 and HB 1421 — which specifies that transportation would get $50 million a year, K-12 $40 million and higher education $49.5 million from the new revenues that would fit under the TABOR cap — are expected to receive debate from the full House on Thursday.