Dear TABOR supporter,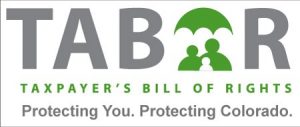 You may be the right person to make a difference in your town.  You can help to protect the citizens of Colorado by protecting the Taxpayer's Bill of Rights, but without taking a lot of your time and at no expense to you.
Much of the work of the TABOR Foundation includes taking legal action against taxation without a vote of the people.
But most of our efforts are directed toward educating voters about why the right to vote on the taxes that you and your neighbors pay is a good idea – as well as calling attention to the all-too-common attempts to eviscerate TABOR.
You can help!
We are recruiting TABOR supporters to be a part of our volunteer Communications Team.
The job is simple but very important.
About once a quarter, we will send you a draft Letter to the Editor (LTE).  Its length is about 100-200 words.  Additionally, we'll send you a link to your local weekly newspaper where you can post the LTE as is, or better, edited to include your own take on the issue.
Sending an LTE from a local reader is the single best way for such a piece to published.  The likelihood of publication from someone outside the readership area is small.  And, weekly papers and their letters section have high readership.
So, this is a good, inexpensive way to spread the word about TABOR.
If you're willing to be a TABOR Local Correspondent, please contact Randy Hildreth or Christine Burtt. We'll need your complete contact info: address, email, best phone number.
Of course, your financial contribution is always appreciated.  Those funds help support litigation against local bureaucracies that violate TABOR's requirements for voter approval before new taxes (usually disguised as "fees") are mandated.
Thanks for your on-going support!
Randy Hildreth
TABOR Communications
randyhildreth@gmail.com
720.233.4769
Christine Q Burtt
TABOR Foundation Board Member
cqburtt@cqburtt.com
303.328.5193