By Robert Davis
Dec 17, 2020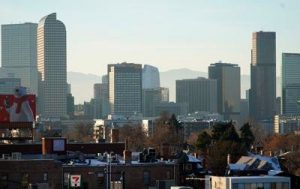 The skyline is backlighted as the sun sets late Sunday, Dec. 13, 2020, in Denver.
AP Photo/David Zalubowski
(The Center Square) – Colorado businesses are opposed to lawmakers increasing taxes during the upcoming legislative session, according to a new survey on how the COVID-19 pandemic has impacted the state's businesses.
The survey, conducted by the Colorado Chamber of Commerce, found 87% of respondents want lawmakers to avoid "increases in taxes on businesses."
Of the survey's respondents, 80% of businesses said they want lawmakers to implement COVID-19 liability protections, and 56% want exceptions in public health orders to allow businesses to stay open if they meet or exceed guidelines.
"The economic fallout from COVID-19 can be felt among businesses of all sizes throughout the state," Chuck Berry, president of the Colorado Chamber, said in a statement.