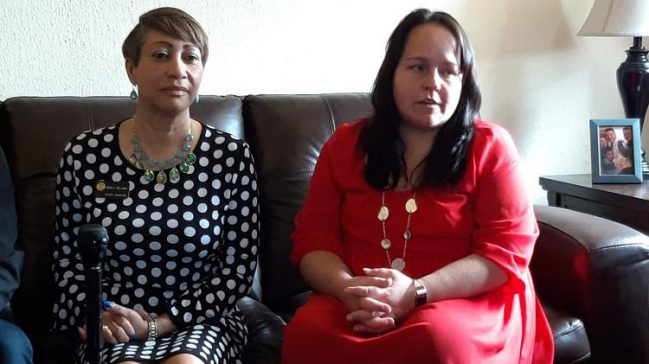 Colorado state Sens. Angela Williams and Faith Winter speak to the media the day after they turned their bill creating a paid-family-leave program into several studies of how to implement such a program in 2019.
ED SEALOVER | DENVER BUSINESS JOURNAL
By Ed Sealover
Reporter, Denver Business Journal
Feb 6, 2020, 10:18am EST
Before Democratic legislative leaders even have introduced the latest version of a bill to create a paid-family-and-medical-leave system for all private-sector workers in Colorado, they are being met with a host of concerns from the business groups to whom the compromise bill was supposed to appeal — as well as a lukewarm reaction from the advocates who have backed their efforts over the past six years.
Democratic Sens. Faith Winter of Westminster and Angela Williams of Denver confirmed in interviews Tuesday that they are about to introduce a new bill that would require employers to give workers with at least six months of service access to eight weeks of partially paid leave in the event of a new child, a severe health episode for themselves or a loved one, a need to escape domestic violence or a requirement to deal with the call-up to active military duty of a family member. Like past iterations, it involves job protection for workers who take leave, but it adds a new twist this year of having the leave offered through a private-market system in which the state lays out requirements for employers and companies then fund the program themselves or buy insurance policies to cover potential costs.
Last month, Denver Metro Chamber of Commerce President/CEO Kelly Broughcalled strongly at her organization's annual Legislative Preview Breakfast for legislators to follow the suggestion of Democratic Gov. Jared Polis and offer a private-market solution that incorporates flexibility for companies that already offer paid-leave programs. Brough said Wednesday that she is pleased with that aspect of the bill and believes it will allow companies to meet the needs of workers better, but she said the proposal still has several provisions that worry her.