Perspective
Partisan posturing trumps a better Colorado
By Henry Dubroff and John Huggins
Posted:   05/21/2016 05:00:00 PM MDT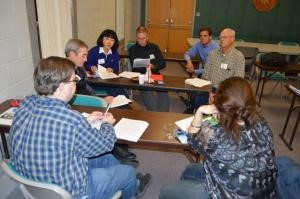 Local leaders discuss possible changes to the state's constitutional initiative process in a small group during the Building a Better Colorado community summit at Northeastern Junior College on Dec. 7. (Sterling Journal-Advocate)
The tensions between populism and policymaking that are so evident in this year's presidential primaries have trickled down to the state level.
In Colorado's case, major policy reforms — including those that emerged from last fall's Building a Better Colorado process of town hall meetings — have at times taken a back seat to partisan posturing.
But the Building a Better Colorado reforms remain a key part of the civic agenda, especially in these three areas:
Reform or replace the Taxpayer's Bill of Rights (TABOR), or put in place a "TABOR relief valve" so that the state may keep a bigger share of tax revenue to fund roads, schools and other infrastructure necessary to serve Colorado's growing population.
Reform our primary election process so that the results better reflect the will of voters and also put Colorado where it belongs on the national political map, as the most influential swing state in the Rocky Mountain region.
Establish somewhat higher though reachable hurdles for qualifying and approving constitutional amendments, taking into account Colorado's diverse geographic and demographic interests.
The difficulty in getting TABOR relief approved in the just-finished legislative session underscores how tricky it is to enact reforms in an election year where the Donald Trump and Bernie Sanders insurgencies are having a big impact. In the state Senate, for example, majority Republicans were pushed by the Colorado chapter of the Koch brothers-funded Americans for Prosperity not to tweak the language of the state's hospital provider fee and exempt it from TABOR limits. The penalty: facing a more conservative primary opponent at the next election.
To read the rest of this Denver Post story about TABOR, click (HERE):