Mayors call for 'de-Brucing' Colorado at DBJ State of the Cities forum
Jan 12, 2016, 2:10pm MST
Molly Armbrister Reporter Denver Business Journal
Mayors from across the Denver metro on Tuesday railed against gridlock at both the state and federal levels while discussing local and regional solutions to problems such as affordable housing and transportation, and called for the "de-Brucing" of state finances in the way many municipalities that have done already.
Five metro mayors gathered at the Denver Business Journal's annual State of the Cities event to field questions on topics ranging from education funding to construction defects laws and the effect it's having on construction of mid-priced condominiums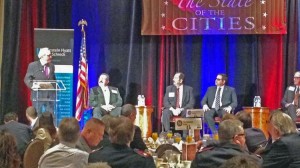 State of the Cities 2016: Neil Westergaard, Denver Business Journal editor-in-chief introduces the mayors at Tuesday's event.
Monica Mendoza | Denver Business Journal
Asked about proposed state-level measures including a $3.5 billion bonding effort and moving revenue from the state's hospital provider fee to an enterprise fund, both with the goal of boosting funding for roads, mayors said that bigger, constitutional issues need to be addressed first.
"It has to be said. Before we address bonding, we need to de-Bruce. Period. And allow, without raising taxes, for the state of Colorado to take the revenue they receive and to begin to invest in important programs like transportation, roads and education," said Denver Mayor Michael Hancock.
De-Brucing is a reference to tax activist Douglas Bruce, author of the 1992 Taxpayer's Bill of Rights constitutional amendment. TABOR placed limits on the amount of tax revenue that can be collected by governments in Colorado and mandates tax rebates in some cases when revenues exceed limits tied to population growth.
The term "de-Brucing" refers to ballot measures that allow governments to opt out of the revenue limits and keep amounts raised by existing tax rates. Tax rate increases have to be approved by voters under TABOR.
Several municipalities, including Denver, have de-Bruced their finances with the approval of local voters, but similar efforts to make those kind of changes at the state level have never gotten off the ground.
Hancock said it's time to change that. And Aurora Mayor Steve Hogan said while Colorado is at it, voters should whack two other amendments to the Colorado Constitution that wreak havoc on the ability of state and local governments to govern.
"I would add to that," Hogan said. "We need to get rid of the Gallagher Amendment and Amendment 23. The unholy trio that restricts what is happening in the state of Colorado. They work at cross purposes, against each other and the only way we're going to solve it is to get rid of all of them and start over. Right now, I will say it. I will say it anywhere, anytime to anybody. All three of them are bad news for the state of Colorado."
The Gallagher Amendment was passed in the early 1980s to maintain a ratio between the property taxes paid by commercial building owners and residential property owners. The amendment requires that the assessment rate for residential properties be reduced whenever total residential property values in Colorado increase at a faster rate than business property values.
Amendment 23 changed the way the state funds K-12 education by requiring the Legislature to make specific increases each year. Among the changes in the amendment is a requirement that the statewide "base," or the amount of per-pupil funding that all districts receive, in the school finance act be increased by at least the rate of inflation every year.
The de-Brucing discusssion came up during questions about how to pay for transportation improvements.
"We can't address these issues of mobility in Colorado," Hancock said. "These issues of higher education or lack of funding thereof, or primary education, without a sensible, practical solution or approach to the finances of the state of Colorado. Mayor Hogan's absolutely right. We must address…these major amendments to our Constitution. We can we start with taking a look at TABOR."
The matter has not been addressed at the state level due to "lack of political will," Hancock said, but that it's up to the state to best spend the money it has before taking other measures to fund programs.
"I believe that citizens should expect a government that does the very best with what it's collecting before you ask for more bonding capacity," Hancock said. "Before you ask for more taxes."
Commerce City Mayor Sean Ford added that voters in his city agreed to pay a one-cent sales- and use-tax increase to fund various projects, including widening and improvements of roads, but that help is still needed from the state to maintain roads.
"Without de-Brucing, we're going to continue to suffer," Ford said.
Beyond the topic of Colorado's Constitutional amendments, discussion on how to spur more construction of more affordably priced housing quickly turned to the ongoing construction defects debate that has dominated the conversation around housing for over a year.
Developers, builders and many local politicians have argued that the state's construction defects law is responsible for the lack of condominium construction in the market, sending a ripple effect through the residential real estate market that has, along with low supply and high demand, driven up prices for homes metro-wide.
Others argue that there is simply more demand for apartments than for condos right now, causing developers to shy away from condo development. Consumer advocates say that reforming construction defects will lead to shoddy building and will leave homeowners with little recourse if there is an issue with their home.
Four of the five cities represented on the panel have passed local construction defects ordinances after the Legislature failed to make a change at the state level two years in a row.
Lakewood was the first city to do so, in October 2014, after a charge led by former Mayor Bob Murphy. The city has yet to see new condo development.
Murphy's successor, Adam Paul, elected in November, suggested that developers are nervous to be the first to try a condo project under a local ordinance, and that the ultimate solution lies with the Legislature.
"The Legislature has got to act to bring some sort of certainty," Paul said. "In the city of Lakewood, the last for-sale condo was built in 2006. We have over 2,000 multi-family units going up, and they're all rental. So, it's critical that we see the Legislature act before it's too late."
Littleton Mayor Bruce Beckman addressed another contentious issue being addressed on the local level: Urban renewal incentives.
Littleton residents in March 2015 voted to require the city to go to the voters before using common urban-renewal tools such as tax-increment financing and eminent domain. Wheat Ridge has since passed a similar measure.
Beckman said that Littleton has not seen a slowdown in growth since its measure was passed, there has not yet been a large enough development proposed for the new rule to come into play.
Molly Armbrister covers real estate, retail and construction for the Denver Business Journal and writes for the "Real Deals" blog. Phone: 303-803-9232.
http://www.bizjournals.com/denver/blog/real_deals/2016/01/mayors-de-bruce-colorado.html