Even though I don't write a column anymore, some issues demand attention. Today, it's Proposition CC. The question is, where to start.
The deceptive wording is as good a place as any.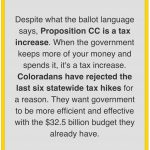 "Without raising taxes and to better fund public schools, higher education, and roads, bridges, and transit, within a balanced budget, may the state keep and spend all the revenue it annually collects after June 30, 2019, but is not currently allowed to keep and spend under Colorado law, with an annual audit to show how the retained revenues are spent?"
It seems to me if the legislature wants to strip one of the fundamentals of the Taxpayer's Bill of Rights, our lawmakers should have the nerve to say so.
For those of you who don't know, in 1992 voters amended the Colorado Constitution to limit the growth of government by limiting spending — a bill affectionately known as TABOR.
To read the rest of this TABOR editorial, please click (HERE):