The Colorado Taxpayer Bill of Rights (TABOR), also known as Initiative 1, was on the November 3, 1992 ballot in Colorado as an initiated constitutional amendment, where it was approved. The famed measure, thought up by Douglas Bruce, requires statewide voter approval of tax increases that exceed an index created by combining inflation and population increases.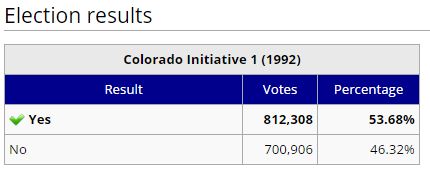 Text of measure
See also: Colorado State Constitution, Article X
The language appeared on the ballot as:[2]
| | | |
| --- | --- | --- |
| " | Shall there be an amendment to the Colorado Constitution to require voter approval for certain state and local government tax revenue increases and debt; to restrict property, income, and other taxes; to limit the rate of increase in state and local government spending; to allow additional initiative and referendum elections; and to provide for the mailing of information to registered voters? | " |
Aftermath
Kerr v. Hickenlooper
See also: Kerr v. Hickenlooper
A lawsuit regarding Initiative 1 will likely have far reaching effects for other TABOR laws around the country and direct democracy, in general. A lawsuit was filed with U.S. District Court in Denver, with plaintiffs arguing that the amendment is unconstitutional. The lawsuit was filed during the week of May 27, 2011, by 34 bipartisan plaintiffs, according to reports.
According to Doug Bruce, author of the citizen initiative, if the lawsuit is successful in its efforts, it could allow lawmakers unlimited power, and could be extremely detrimental to citizen initiative efforts in the state of Colorado. Bruce stated: "This isn't only attacking Colorado. The consequences of a ruling in their favor would invalidate the Constitution in all 50 states, and would also mean no limits on the federal government. We would have anarchy."
However, one of the attorneys for the plaintiffs, David Skaggs, stated that the measure limits state legislators and conflicts with both the state and United States constitutions. Skaggs also argues that other initiatives have been overturned, but that it did not negatively affect the process. Skaggs commented: "Courts won't reach beyond the narrow question presented. Yes, we got to this issue by initiative", but the lawsuit targets TABOR and not citizens' initiatives.
The case's impact expanded significantly due to the consideration of a Guarantee Clause argument. In 2012, Colorado District Court Judge William J. Martínez ruled in favor of allowing the case to proceed. However, Martínez's ruling noted the history of seeing the Guarantee Clause as not justiciable or capable of judicial resolution, and said, "the Court determines that it cannot summarily conclude that Plaintiffs' Guarantee Clause claim is per se non-justiciable"
The defense appealed the decision to the 10th Circuit Court of Appeals. In March 2014, the court ruled that the case was justiciable. The court further denied a petition for rehearing en banc in July 2014. Some consider the case likely to reach the U.S. Supreme Court.
https://ballotpedia.org/Colorado_Taxpayer_Bill_of_Rights,_Initiative_1_(1992)