Caldara: Cowboy up and repeal of Taxpayer's Bill of Rights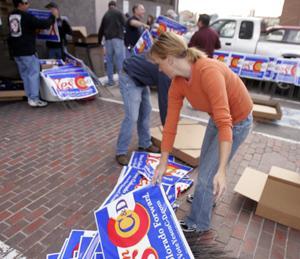 In this file photo, volunteers pile up signs for backers of the 2005 ballot measures that aimed to lift some TABOR restrictions. Referendum C passed which allowed the state to retain expected refunds for five years and reset the TABOR base.
By JON CALDARA | Columnist for The Denver Post
PUBLISHED: June 28, 2019 at 2:14 pm
Come on you taxpayer-hating, consent-loathing, voter-fearing pantywaists.
Cowboy up and put a full repeal of our Taxpayer's Bill of Rights on the ballot. You know you want to. So just do it.
I'm talking to you in the Colorado Legislature who've been calling tax increases "fees" because you don't trust the people who elected you to vote on their own taxes. You who want another "TABOR time out" to nibble away consent and jack up spending limits permanently.
You've always hated TABOR because you hate asking for permission to raise taxes. You hate asking to raise debt. You hate asking to keep excess tax revenue above the rate of population growth and inflation.
You've used every conceivable loophole the courts have pried open for you to keep what would have been refunded to working families.
And now you never want to have to ask again.