Campaign for Coloradans to give up their TABOR refunds doesn't exist – so far
The Post couldn't find a Democrat who would talk about it on the record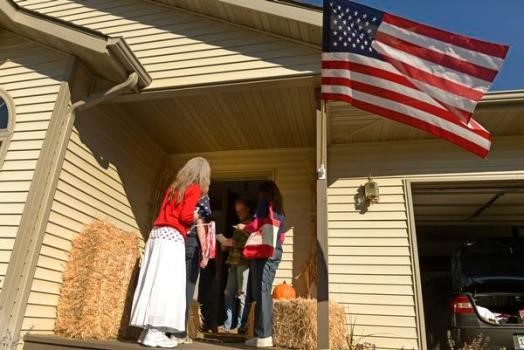 Republican evangelical Kendal Unruh, right, along with Pam and Steve Houser, left, talk election issues with Beverly Hills resident Rusty Fuerst.
By ANNA STAVER | astaver@denverpost.com | The Denver Post
July 25, 2019 at 6:00 am
For weeks the people who oppose a ballot measure that would end state TABOR tax refunds have spent thousands of dollars knocking on doors, passing out flyers and making phone calls.
Those who support Proposition CC, however, are nowhere to be seen.
Transportation and education lobbyists, whose organizations stand to directly benefit from a victory this November, told The Denver Post they hadn't heard of an active campaign in support of Proposition CC yet. No record of one exists in the Secretary of State's Office's online system, and major Democratic firms like Onsight Public Affairs haven't been hired to assist anyone.
The Post couldn't find a Democrat who would talk about it on the record.
"For a lot of people we talk to this is the first time they've ever heard about (Proposition CC)," said Jesse Mallory, who runs the Colorado arm of Americans for Prosperity. "We get to explain the true impact it would have, and what the legislature is truly asking."