Colorado Senate president rebuffs legal opinion on hospital fee, road funding
Feb 16, 2016, 5:23pm MST
Ed Sealover Reporter Denver Business Journal
A new bipartisan legal opinion regarding the constitutionality of a plan to boost Colorado transportation funding has failed to move Republicans in the state Legislature on the issue.
That makes it appear increasingly likely that House and Senate leaders will be unable to agree on a solution to what Gov. John Hickenlooper has called one of the most pressing problems in this session.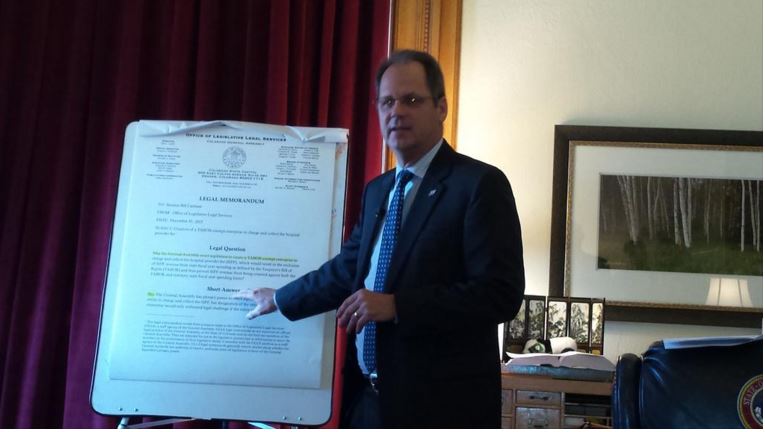 Colorado Senate President Bill Cadman points on Jan. 6, 2015 to an oversized copy of a… more
Ed Sealover | Denver Business Journal
The plan involves excluding the state's hospital provider fee from revenue limits set by the Taxpayer Bill of Rights, or TABOR, as a way to create more room in the general fund for transportation and education spending.
Senate President Bill Cadman, R-Colorado Springs, said Tuesday that he gives no credence to an opinion issued last week by Jon Anderson and Trey Rogers, who served respectively as legal counsels for former Republican Gov. Bill Owens and former Democratic Gov. Bill Ritter.
The Anderson-Rogers opinion stated, in contrast to one issued in December by the nonpartisan Office of Legislative Legal Services (OLLS), that turning the hospital provider fee into an enterprise fund — thereby excluding it from TABOR's terms — would be constitutional because the fee serves the business purpose of helping hospitals defray their cost of providing patient care.
Cadman, however, said that the only reason that the attorneys produced the opinion is because they were paid to do so, though he did not identify any groups that may have funded the effort.
Neither Rogers or Anderson immediately returned calls left for them Tuesday by the Denver Business Journal.
More importantly, Cadman said the memo will do nothing to reopen the discussions about a potential bill to designate the fee as an enterprise fund and, therefore, increase resources for transportation and education.
In fact, he said, few people seem to have taken the memo as a reason to ask him to rethink the issue since he said at a news conference in early January that the OLLS opinion meant that the doors were closed on what he considered an unconstitutional action.
"There's always talks going on here about everything. But I would say the clamor has certainly diminished over" the hospital provider fee, he said. "There certainly wasn't a massive charge at the door after this opinion got issued."
"We all looked at it," Cadman added. "I think what's really interesting is the (OLLS) opinion we looked at originally, I would call objective. This one seemed subjective — subject to the people who paid for it."
House Speaker Dickey Lee Hullinghorst, D-Gunbarrel, said that she was "pretty astounded" about Cadman's comment, considering the legal reputations of the two men that issued it.
She expounded that she put more credence into this opinion than that of the OLLS because the OLLS was asked generically about turning the seven-year-old fee on hospital patients into an enterprise fund, while this seemed to look specifically at bills like the one Hullinghorst offered unsuccessfully last year, which would have repealed the existing fee and instituted a new fee specifically as an enterprise fund in which no general-fund money would intermingle with the revenue.
If the fee is not turned into an enterprise fund, the amount of general-fund money collected in the budget this year and in future years very likely will exceed TABOR's revenue cap, leading to refunds for taxpayers.
If the $550 million or more of revenue that is coming in from the hospital provider fee is removed from the cap, though, it would allow for a full $200 million of road funding and would eliminate the need for the Legislature to consider higher-education funding cuts that Hickenlooper has proposed.
"On negotiations, I think we're sort of nowhere. And I think we have been in that position since the president's press conference. But I haven't given up," Hullinghorst said. "We have some challenges ahead of us. But I think that all of us need to sort of put our politics aside on this one and try to make this work."
It is particularly interesting that Cadman spoke so harshly of an opinion offered by Rogers. Last session, Rogers was the primary supporter of a bill Cadman offered, then killed, late in the session that would have resulted in the revocation of local incentives promised for the Gaylord Rockies hotel/conference center project in Aurora.
Ed Sealover covers government, health care, tourism, airlines, hospitality and restaurants for the Denver Business Journal and writes for the "Capitol Business" blog. Phone: 303-803-9229.
http://www.bizjournals.com/denver/morning_call/2016/02/colorado-senate-president-rebuffs-legal-opinion-on.html?ana=e_den_rdup&s=newsletter&ed=2016-02-17&u=ewaw5QTZsfAZ0BN1ha0knw0d36a24e&t=1455735650