Molly Armbrister
ReporterDenver Business Journal
Mayors from across the Denver metro on Tuesday railed against gridlock at both the state and federal levels while discussing local and regional solutions to problems such as affordable housing and transportation, and called for the "de-Brucing" of state finances in the way many municipalities that have done already.
Five metro mayors gathered at the Denver Business Journal's annual State of the Cities event to field questions on topics ranging from education funding to construction defects laws and the effect it's having on construction of mid-priced condominiums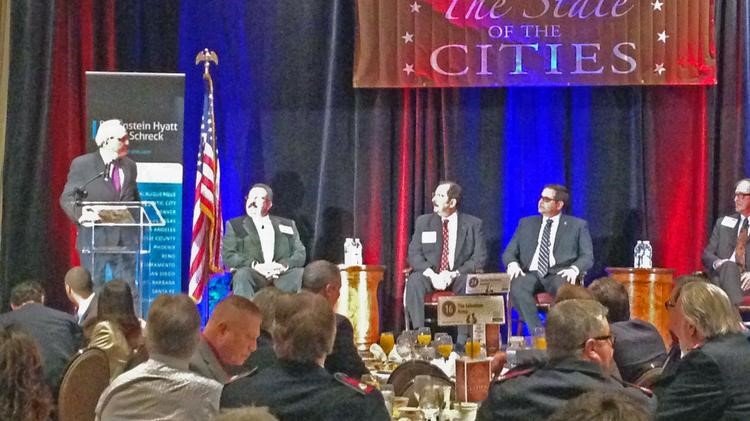 State of the Cities 2016: Neil Westergaard, Denver Business Journal editor-in-chief,… more
MONICA MENDOZA | DENVER BUSINESS JOURNAL
Asked about proposed state-level measures including a $3.5 billion bonding effort and moving revenue from the state's hospital provider fee to an enterprise fund, both with the goal of boosting funding for roads, mayors said that bigger, constitutional issues need to be addressed first.
"It has to be said. Before we address bonding, we need to de-Bruce. Period. And allow, without raising taxes, for the state of Colorado to take the revenue they receive and to begin to invest in important programs like transportation, roads and education," said Denver Mayor Michael Hancock.
De-Brucing is a reference to tax activist Douglas Bruce, author of the 1992 Taxpayer's Bill of Rights constitutional amendment. TABOR placed limits on the amount of tax revenue that can be collected by governments in Colorado and mandates tax rebates in some cases when revenues exceed limits tied to population growth.
The term "de-Brucing" refers to ballot measures that allow governments to opt out of the revenue limits and keep amounts raised by existing tax rates. Tax rate increases have to be approved by voters under TABOR. Continue reading →