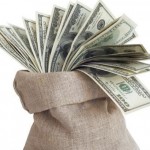 Colorado's economy keeps getting better, and it continues to be reflected in the amount of money the state takes in from taxes.
That's the conclusion from the latest estimates from state officials that show overall tax collections continue to improve in the state, coinciding with the continuing improvement in the state's economy.
Revenue forecasts released Monday from the Office of State Planning and Budgeting (OSPB) and the nonpartisan Legislative Council both showed increases in forecasted revenues. The forecasts are used to set budget priorities for the state government for the remainder of the current fiscal year, which ends on July 1.
The more conservative forecast, from OSPB, suggests that general-fund revenues in the 2015-2016 fiscal year will be $53.6 million more than previously forecast just three months ago, when forecasters agreed that about $1 billion more in revenue would be available to lawmakers for spending on state programs in the coming fiscal year.
Forecasters continue to predict, however, that lawmakers will have to set aside as much as $120 million of the increased revenue to pay refunds to taxpayers mandated by the Taxpayer's Bill of Rights, which limits the amount of increased revenues the state can take in and how much lawmakers can spend each year. Continue reading →