If a candidate running for political office wants to abolish TABOR, that candidate doesn't deserve your support or more importantly, your vote.
Tell them, "See Ya!!!!"
"'SEE YA' TABOR Some gubernatorial candidates said at a debate Monday they wanted to repeal TABOR, a constitutional amendment that affects school funding." KUNC
https://www.chalkbeat.org/posts/co/2018/04/11/rise-shine-canon-city-district-is-the-latest-to-consider-four-day-week/
Gubernatorial Candidates Divided On TABOR, Education Funding And Gun Control At UNC Debate
By MATT BLOOM • APR 10, 2018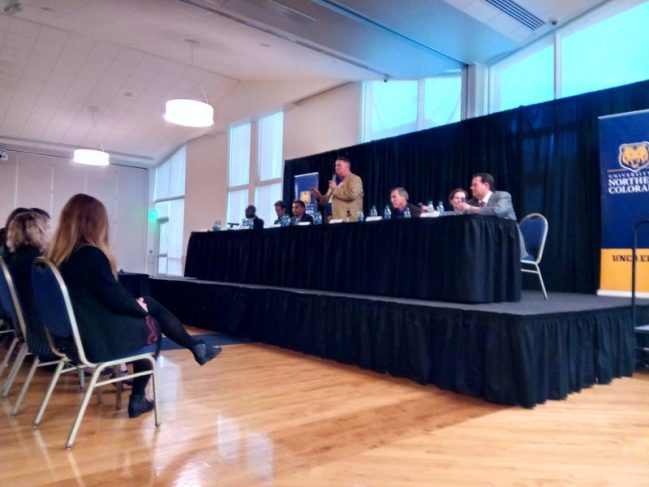 Candidates for Colorado governor at the University of Northern Colorado on April 10. From left: Erik Underwood (D), Mike Johnston (D), Greg Lopez (R), Scott Helker (L), Doug Robinson (R), Donna Lynne (D) and Steve Barlock (R)
MATT BLOOM
When asked what they thought the defining issue facing Colorado is, the panel of seven candidates at Monday night's gubernatorial debate in Greeley couldn't pick just one.
"The most important thing the next governor has to do is to build a coalition statewide to go to the ballot and repeal the worst parts of TABOR to build schools," Mike Johnston, a Democrat, said to the crowd of 100 people in UNC's University Center Grand Ballroom.
Fellow Democrat Erik Underwood echoed Johnston's concerns, but was quick to call him a "Johnny-come-lately" on repealing TABOR.
"Actually, I'm the only original candidate on the Democratic side that wanted to repeal TABOR," he said. "So, thank you."
Doug Robinson, a Republican, said he had multiple priorities but pointed to the future of the state's transportation infrastructure as a critical issue.   Continue reading →