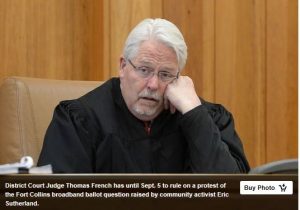 The fate of a November ballot question that could lead to Fort Collins providing high-speed internet services is in the hands of Larimer County District Court judge.
Fort Collins resident Eric Sutherland and attorneys representing the city squared off in court Friday morning to argue about whether the content and form of the broadband ballot question meet legal requirements.
District Court Judge Thomas French has until Tuesday to decide whether to change the ballot language approved by City Council or let it stand.
The city's deadline for certifying the ballot language to the Larimer County Clerk's Office is Sept. 8. The county is coordinating the Nov. 7 election.
Sutherland raised five complaints about the ballot language, ranging from the lack of a comma, which he said made the question grammatically incorrect, to whether it complies with the Taxpayers' Bill of Rights, or TABOR, amendment to the state constitution.
If approved, the measure would amend the City Charter to allow but not require the City Council to establish a telecommunications utility. The utility would be a standalone entity or part of the city's Light and Power Utility.