Colorado Springs politician once again bucks Republicans
By: Megan Schrader •
April 29, 2016• Updated: April 29, 2016 at 6:10 pm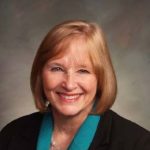 DENVER – State Rep. Kit Roupe, R-Colorado Springs, was one of five Republicans to vote for a bill Friday that would allow the state to retain millions of dollars that otherwise would have to be returned to voters under the Taxpayer's Bill of Rights.
House Bill 1420 passed 39-26 on Friday and is headed to the Senate, where its success depends on what committee it is assigned to by Senate President Bill Cadman, R-Colorado Springs.
The bill removes from the general fund revenue generated by a fee charged on hospital stays so that money no longer counts toward the TABOR threshold (the point where revenue has grown too fast and money must be returned to taxpayers). The hospital provider fee revenue would instead go to a separate enterprise fund, where it is exempt from TABOR and outside the purview of lawmakers.
"I began considering the switch of my vote when I learned that it really wasn't a bed tax, per se, and that over the course of the last several years we've actually taken money that was not ours out of hospital provider fee to pay for balancing the state budget," Roupe said.
The hospital provider fee was established by lawmakers in 2009 to help pay for the expansion of Medicaid in Colorado. The money is collected from hospitals, matched by the federal government then returned to hospitals based on which facilities treat the most Medicaid patients.
Republicans hammered Democrats on Thursday – when the bill was heard the first time – over the growing cost of Medicaid and the decision to implement the fee. At the time, several Republicans, including then-Attorney General John Suthers, warned the fee should go into an enterprise fund instead of the general fund.
Now Democrats agree, saying having the growing fee's revenue in the general fund will crush the state's ability to provide money for transportation infrastructure and education. House Speaker Dickey Lee Hullinghorst, D-Boulder, estimated it could cost state services $1 billion by 2020. Hullinghorst's HB 1420 and companion House Bill 1450 recommend retaining that money by forgoing TABOR refunds and using the funds on prioritized projects. Continue reading →